Payment Methods: Cash, Visa, Master Card & American Express
Catering & Delivery: Available
Take Out: Available
Reservations: Mandatory for Friday and Saturday evenings
Smoking Section: Outdoors
Beer & Wine: Yes
Liquor: Yes



Our Food:

Tarboosh Lebanese Cuisine is as good for you as it is delicious. The menu is rich in traditional foods from the Mediterranean. For example, lean grilled meats and savory sauteed vegetables steaming on a bed of tender long grain rice. This is the type of food that builds the body and feeds the mind; and along with a nice cup of Arabic coffee and a light desert, you have the perfect business lunch.
See the menu pages for a look at other delectable treats to satisfy your palate. You may choose to dine inside or outside. There is a relaxing, oasis-like ambience out on the heated patio. While outside, you may also have a smoke and/or try a flavored Hookah.

For Dinner, bring friends and family for a beautiful family style feast. We suggest starting with some nice Mazzas (traditional appetizers) and, for a main course, the very popular and filling mixed grill featuring three different Kabobs, and all the trimmings. Or, for the seafood lover, our fresh seafood grill is a delicacy your taste buds will savor until your appetite is vanquished. Of course, save room for those heavenly deserts. It's well worth it.
The Atmosphere:
Now, a word about our friendly family atmosphere. True, the food is fabulous, but the care taken buy the warm friendly staff to ensure a pleasurable night out is the specialty of the house. From the passion of the Chef as he prepares each dish, to the way the staff smiles as they greet you, Tarboosh is an uplifting experience in your busy life! We can all use a little "TLC" from time to time. In traditional fashion you will be able to take your time and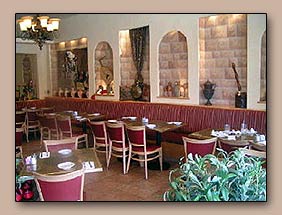 enjoy your meal, a refreshing experience in today's hurried world.
The special dining experience Tarboosh is famous for takes place on Friday and Saturday nights. Come late, stay late, enjoy the total experience of Mediterranean Culture. All of your senses will be aroused with the sights, sounds, aromas, and tastes of one of the world's most fascinating cultures. After 9:30 p.m. Tarboosh comes alive with exotic Belly Dancers, Live Music, top-shelf drinks, Hookah, and you can indulge in what your appetite desires. We welcome all, but a reservation is highly recommended to ensure the seat of your choice.
By now you should know that an evening at Tarboosh will be anything but the typical Night Out to Dinner. It is an experience you normally would need to make overseas travel arrangements to indulge in. Now, all you have to do is call and make a reservation to have that exotic trip to the Middle East. Enjoy!

Why the name Tarboosh?

The name refers to the headdress worn by many peoples from eastern Mediterranean countries. The Tarboosh is a symbol of Arabic culture tying the past to the future. The Tarboosh is no longer a common part of dress although it is a cultural Icon and symbol of an era of change. The spirit of Arabic and Mediterranean culture to adapt to the times and stay in touch with their cultural roots is what Tarboosh the restaurant is all about.
Traditional Lebanese Dining:
Although the food varies a little from country to country throughout the Middle East, it is where the Arab world meets the Mediterranean that it becomes really interesting.
Lebanese food combines the complex sophistication of European cuisine with the excitement of eastern spices, and it is Lebanon's culinary contributions that have been the greatest influence on modern Arabic cuisine. Dishes from Lebanon provide the framework for the exotic cuisine recognized internationally as Arabic.
Many traditional Lebanese dishes are simple preparations based on grains, vegetables and fruit. Often the same ingredients are used over and over, in different ways, in each dish. Yogurt, cheese, cucumber, aubergines, chickpeas, nuts, tomatoes, burgher and sesame (seeds, paste and oil) are harmoniously blended into numerous
assorted medleys. Parsley and mint are used in vast quantities, as are lemons, onions and garlic.
Pastries are stuffed with vegetables and vegetables are stuffed with meats. Meat may be made into nuggets then cooked over charcoal. Presentation is always artistic: even the most basic dish is beautifully garnished -- a sprig of parsley here and a dab of yogurt there.
A typical Lebanese meal starts with mezza -- this can be an elaborate spread of forty or fifty hors d'oeuvres or simply a salad and a bowl of nuts. But it is always a social occasion when friends and family gather to enjoy appetizers and conversation before dinner. A meat, (lamb is the favorite meat) chicken or fish dish follows with salad and rice.




Hookah:
In Lebanon and other Mid-eastern Cultures the Hookah is common at social gatherings. Hookah is one of the oldest and most deep-rooted traditions in Turkey. Both men and women find great pleasure in smoking the water-pipe. The Hookah started a whole new culture that endured for many, many years. Even today the Hookah gives enjoyment to a special breed of smokers. The original Hookah came from India, but it was rather primitive as it was made out of coconut shell. Its popularity spread to Iran and then to the rest of the Arab world.
Now peoples all over the world enjoy the Hookah. Hookah is served at special Hookah bars and many Arabic restaurants. At Tarboosh, our staff prepares only authentic Hookahs with traditional flavored tobacco. There's nothing as refreshing as a good Hookah and a cup of Arabic coffee after a meal.


Dance:

Belly Dance or "Raks Sharqi" in its most classical form translated from Arabic means "The Dance Of The East" or the dance of adventure. In the ancient Middle East/Mediterranean, the belly dance was first performed as sort of a birthing aid. Basically, the sisters of the women giving birth, would aid the new mother by undulating and rolling their bodies in natural, curvy snake -like movements to help with the delivery of the baby. It is a dance as second nature as breathing, and it got its start not as entertainment, but for facilitating childbirth. Slowly Middle Eastern dance became more of an entertainment related art form.
The Belly Dance is a spiritual connection between mind and body. Belly Dancing is as majestic and regal as classical Ballet but, differs because its practitioners receive a total experience. The dance offers a sense of well-being, joy, freedom and most importantly, it is a celebration of the feminine soul and inner spirit through movement.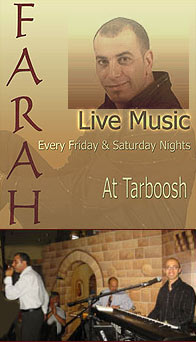 At Tarboosh, class and elegance are a top priority, coupled with the top talent in the Bay Area you will be in for a pleasing and exotic show. After the belly dancer has entertained you, the dance floor is all yours to enjoy for the night.

Music:
Farah has captivated audiences around the world with his amazing voice and warm stage presence. He currently lives in the San Francisco Bay Area and performs at Tarboosh on Friday and Saturday nights.
Along with his keyboardist, Elias Rishmawi, Farah will entertain you with popular songs from the Arabic world. Don't worry if you don't speak the language the music and lyrics are so moving you will be compelled to dance the night away with the friendly and happy people that frequent Tarboosh.